This post is also available in:

Spanish
Ready for some fun? We can safely say that ziplining is as close to synonymous with Costa Rica as you can get. Whenever Costa Rica comes up in the conversation, it is only natural that ziplining will come to mind or the sentence will contain this very popular and very fun adventure experience. For those considering signing up for a canopy tour, there are some tips that are always good to know prior to harnessing up. Here are the 5 things you should know about ziplining!
Monteverde is not only famous for its mystical cloud forest that straddles the continental divide, but also because it is the birthplace of ziplining. Selvatura Adventure Park in Monteverde boasts the only zip lining experience that runs entirely through the canopy of the cloud forest in this incredible mountaintop sanctuary.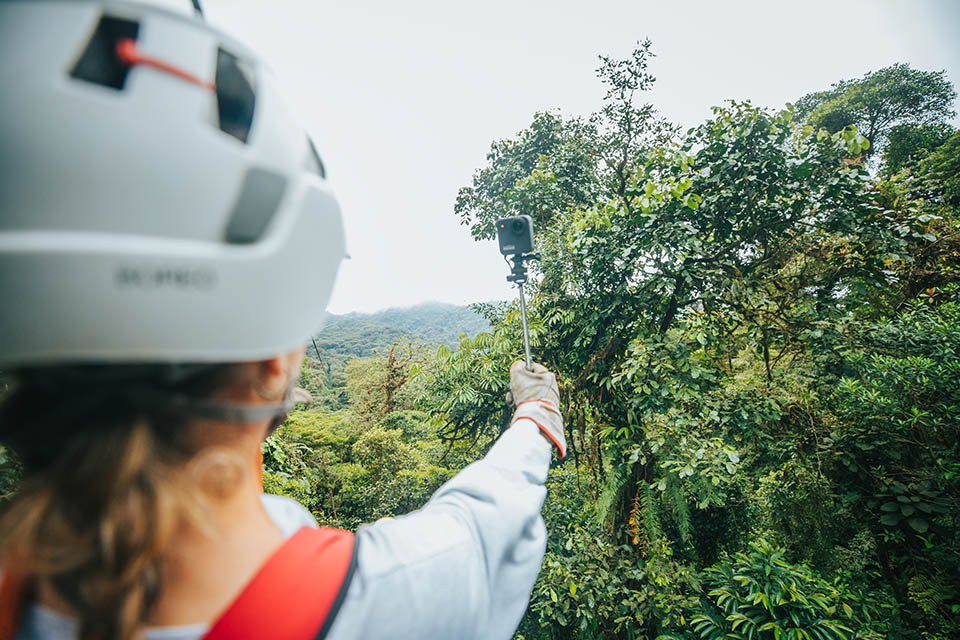 Every zipline adventure is different
Every zipline tour is unique! This means that you can try many during your stay in Costa Rica, and each one will be different. On all of the zipline tours, you will be harnessed to a line and then you'll fly through the sky with the guarantee of an adrenaline rush and the thrill of the ride. This is an absolute similarity on each zipline. So, where is the difference?
The differences lie in the number of cables, the length of the cables, what type of forest or landscape you are ziplining through, are there platforms or do you take off or land from ground level, are the ziplines fast or slower? A ziplining tour may also feature a line for superman ziplining, a Tarzan swing or maybe you can rappel down to the ground too.
Selvatura has 13 cables to wiz along, one of which is 1km long so get ready for lots of fun. It also has a great Tarzan swing and a Superman-style cable which is a real favorite.
Ziplining is very safe
For many people, the thought of ziplining sends chills up their spines, thanks to the experience of flying through the sky and the underlying security and safety issues that are intrinsically tied to it. Fair enough but in Costa Rica, rest assured, security is a top priority always.
Specialized gear is used during your ziplining adventure including a safety harness, helmet, gloves, pulleys and trolleys, automatic stops, manual stops and safety lines. This means there are lots of pieces of equipment that will ensure the utmost level of safety. Add in the expert ziplining guides who are at every point of the tour, and you will see why safety is foremost at all times.
Pay attention to the guides
Before you are even hooked up to the zipline, the professional adventure-experience guides will assist you gearing up. They will already have done a safety check of the lines earlier on in the day to make sure that they are in tip-top condition for the eager zipliners to enjoy.
As part of the security protocols, you will receive a safety and equipment demonstration by the professional guides before the tour begins. It is important to know how to properly maneuver the equipment to break, understand the different ziplining safety signals, identify which piece of equipment is for what, and know what is not to be done.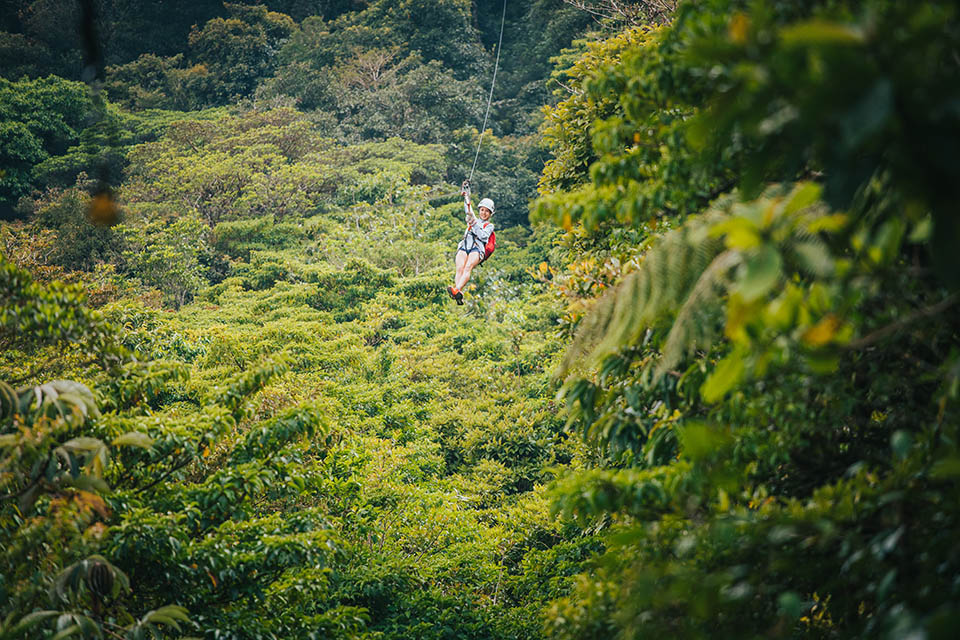 There will be a guide to assist you at each platform to hook up to the zipline and after the flight, to unhook and then attach you onto the next line. The guides will not only ensure you have a fantastic time, but they will also help you out if you need it.
Selvatura has an amazing team of expert adventure guides who are trained to be the very best. With over 2.2 miles of ziplining fun, not only will you have a blast of a time, but your safety will also be the top priority.
Ziplines have different braking systems
Just as ziplines are different in length, speed, landscapes, and numbers, they also can have different braking systems which are important to understand if you get the ziplining bug after your Selvatura Adventure Park ziplining tour. Let's understand them:
Hand-braking system: This system is the most commonly used and it means you will have a special glove with thick leather padding that allows you to brake by pulling down on the zipline cable. This gives you the freedom to go at the speed you want and to slow down when you like.
Automatic Braking System: The name is a bit misleading as this system still requires the thrill-seeker to manually break by moving the metal handlebars back and forth which acts as a brake.
Zipstop Braking System: Selvatura Adventure Park uses this system on the faster cables and it functions with advanced magnetic braking technology. You enjoy the ride and the views while this system takes charge of the braking smoothly, and comfortably even when zipline riders are going at higher speeds.
Whichever braking system is used on the zipline you choose, it is always important to pay attention to the guide and their indications on how to brake and when to brake!
You can go tandem if you want
While ziplining is for the adventurous and the thrill-seekers of the world, it can also be for those that want to fly through the sky but just don't feel that they can do it solo. Not to worry. You can go tandem!
One of those fantastic guides will ride the zipline with you so you can still enjoy this amazing experience. They will be with you all the way. This support system is how children as young as 5 can live the thrill of the ride too but always in the safe hands and care of a professional guide.
Are you ready for the time of your life now? Selvatura Adventure Park has a variety of adventure packages you can choose from, many of which include the cloud forest zip lining tour. Mix and match your activities including ziplining, a walk over the treetop suspension bridges and trails, the butterfly garden, the sloth sanctuary, and the reptile and amphibian exhibition. Let's get that zip lining gear on so that you can fly to your heart's delight!
This is a day of fun in nature. There is a package for everyone, and they are the best option for families and friends, to experience together and create unforgettable memories that will be shared for years to come! See you ziplining through the cloud forest at Monteverde!