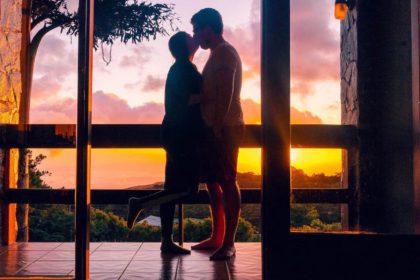 This post is also available in:

Spanish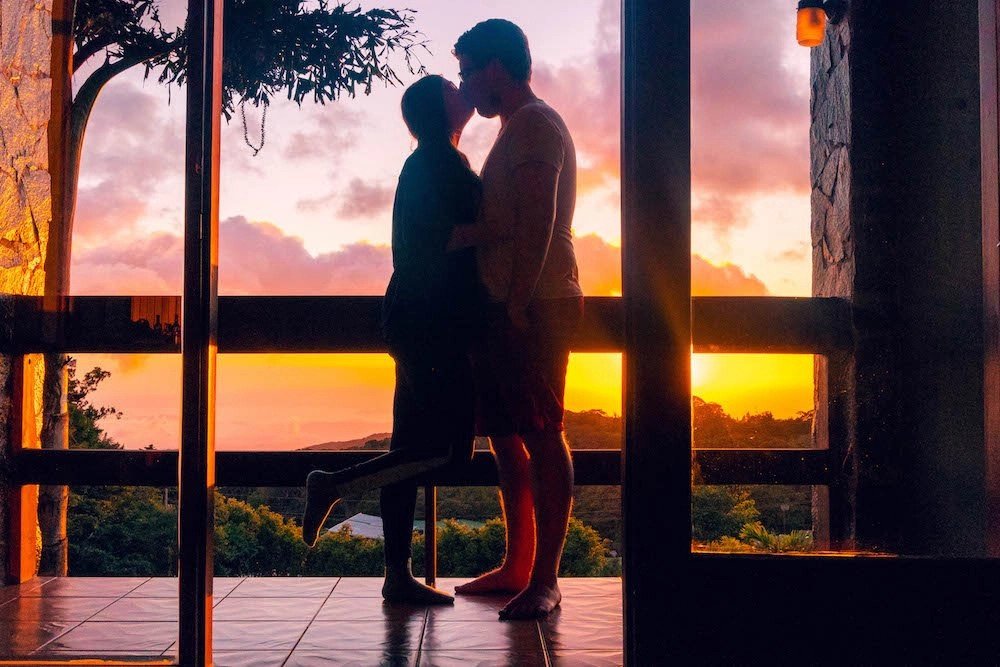 Traveling the world can be amazing but where do you go for a romantic getaway? Not everywhere checks those romantic boxes when couples want to celebrate their honeymoon, a special milestone or occasion, or just because. When you add to the romantic getaway an element of adventure in nature, Monteverde Costa Rica is a perfect choice. Let´s say that Monteverde is an adventurous romance on cloud nine!
Nestled up in the mountains of Costa Rica, Monteverde is the most beautiful backdrop for a romantic vacation where nature, citrus orange sunsets, chalet-inspired hotels, adventure, and serenity all merge into one small destination that is big on amazing. This unique destination will take the adventure in romance to a new level as you achieve those couple goals in nature.
Love and romance is full of emotions, ups and downs, highs, and lows with lots of middle ground. It requires support, enthusiasm, spontaneity, leaving your comfort zone, and lots of laughter created from unforgettable moments, fun, and facing the unknown. A romantic getaway to Monteverde offers you all those emotions as you zip through a rainforest canopy, as you hike through the cloud forest in awe of its magic, as you sit and inhale the picture-perfect sunsets, and as you wine and dine on fantastic food.
After your arrival at Monteverde and settling into your romantic getaway like Ficus Sunset Suites, don´t miss the amazing views of the Gulf of Nicoya in the far distance and the afternoon spectacle as the sun goes down with its symphony of colors. This is the perfect welcome to your romantic getaway in Monteverde.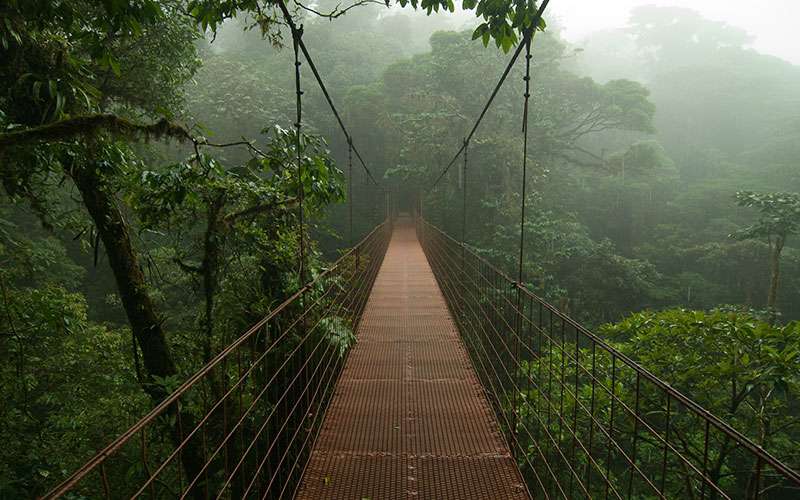 Romance is in the Air
Ziplining is just one of those adventure in nature activities that is so much fun and a must to do during your romantic getaway in Monteverde. Monteverde is the birthplace of canopy or ziplining and Selvatura Adventure Park gives its fearless adventurers the unique opportunity to fly entirely within the cloud forest, Monteverde´s most important and precious natural attraction.
Romantic travel is about living new experiences and reaching new couple goals too. What better way to inject some real thrill into your relationship than tossing on a harness, connecting to a cable, and then gliding through the forest to where your beloved is awaiting you at the other end. On the first cable, you both were novices, by the 13th you both will be experts! Try the Tarzan swing at the end of the zipline for the perfect romance in the air adventure experience.
Love is a bridge
Love and bridges are great emotional and physical connectors. In Monteverde, our favorite bridges are in the form of treetop walkway suspension bridges, and they will take your love to new places! At Selvatura Adventure Park, these state-of-the-art engineering masterpieces are a network of bridges that will take you over and through the park´s nature reserve that protects the cloud forest in all its splendor as part of a nearly 2-mile walk through this misty jungle.
Unlike its ziplining cousin, this is a walk through the forest and over the 8 bridges of varying lengths that can be done hand in hand and at the pace you decide. Take your time and enjoy the diversity of flora and fauna that can be observed and admired as you stroll along the well-maintained paths and trails.
Romance is a walk in the park
Monteverde is home to a number of nature reserves and protected areas that ensure the continued safety and wellbeing of the cloud forest and its wildlife dwellers. After a day of romantic adventure in the clouds, take a romantic walk in the park at one of the reserves including the Monteverde Cloud Forest Reserve or the Santa Elena Cloud Forest Reserve.
This magical hike will take you deep into the cloud forest where you will truly sense its profound beauty and perfection. Moisture-laden clouds dance within the dense vegetation to create a mystical forest brimming with life and natural treasures. This walk is an invitation for a moment of peace and to embrace this sensorial experience as a couple. This is a romantic walk in the park with the Monteverde twist to it.
For the love of food!
Monteverde not only is for lovers of nature, during your romantic getaway to Monteverde, it is also the perfect opportunity to dine out on wonderful food at the many restaurants in Monteverde. A romantic dinner to reminisce about the day´s adventures and couple goals is the perfect finish to a day full of love in nature.
Ficus Sunset Suites has an amazing restaurant with some of the best-uninterrupted views of the Pacific Ocean and the quaint town of Santa Elena if you decide to stay in after a day of adventure exploring the forest canopy or its floor. It is also not far from a number of world-class restaurants including the Tree House Restaurant and the Hotel Belmar´s Celajes Restaurant if you still have some stored energy to venture out in the Monteverde night.
Monteverde is a land of cloud nine for a romantic getaway where close-to-nature adventure and the magic of the cloud forest are the perfect backdrops for an unforgettable romantic vacation. This is the destination that will create love stories you will share for many years to come and is unlike no other.
Check out the Love is in the Air and Love is a Bridge possibility on the Selvatura Adventure Park Monteverde site and choose the package that best suits your romantic expectations in nature.
Selvatura Nature Park and its sister properties, Hotel Ficus Sunset Lodge, Jaguarundi Lodge and Hotel Heliconia look forward to your visit! Your adventure planning begins at the website so come visit us, pick your package and book online to create an unforgettable vacation in Monteverde.